Meet our newest teacher, Ale!!!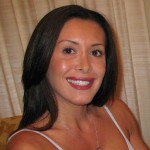 Born and raised in Buenos Aires, Argentina, Ale has a strong background in fitness and dance.  She studied Ballet and Rythmic Gymnastics in Argentina, as well as Ballroom and Latin Dance.  Ale is a certified Pilates Instructor and Fitness Specialist, experienced in Pilates Mat, Pilates Apparatus and is licensed to teach BarSculpt as well.
Also, you are welcome to join us Thursday evenings at 6:30 for BARSCULPT with Ale!! Call 714-731-7900 now to reserve your spot!
It's Time to Straighten Up!!!
Just a reminder that our new class "STRAIGHTEN UP" is starting on WEDNESDAY, AUGUST 7TH at 6:00. This is a 4 week package and we are requiring an advance sign up for these sessions. The cost is $50 for the classes and payment is due on the August 7th. You still have time to sign up, but remember, space IS limited. Please call the studio for reservations or email [email protected].
This new class is designed to teach you to use proper body mechanics in your daily life and will help to alleviate some of those aches and pains that occur from doing things incorrectly.
Don't miss your chance to 'STRAIGHTEN UP"!
THANK YOU again to all of our wonderful clients for referring your friends! You are our best advertisement!! We appreciate you and are so grateful to your for entrusting us with your fitness needs. We are here for YOU! 714-731-7900
Sincerely,
Marie, Karen, Jancy, Sheryl, Pam and Ale
Pilates of Old Town