Jennie's Story
   "Not only is health a normal condition, but it is our duty not only to attain it, but to maintain it." 
                 Joseph Pilates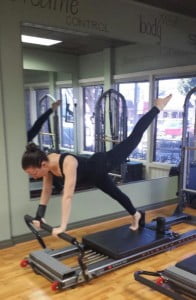 October 2012, Jennie, 29, came into the Studio looking for relief from her constant pain. She presented with multiple injuries including a left knee dance injury, a lumbar spine injury which occurred when she was hit by a bus, on foot. While studying web-design, Jennie developed severe tendonitis of the wrist and forearm, as diagnosed by her doctor. Two years ago, Jennie was involved in another pedestrian vs vehicle accident, when a car hit her and threw her onto the hood, landing her on her right hip. She sustained soft tissue damage of the hip during this accident. Jennie had tried multiple modalities through out the years, including yoga, acupuncture, and physical therapy. They all helped a little but Jennie was not satisfied with her quality of life.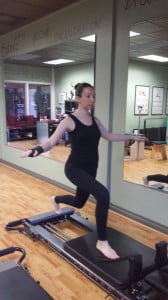 We approached her Pilates program cautiously, taking extreme care with the injured areas, but proceeded none the less. She needed to get stronger, but we also needed to release tight weak areas. When we began, she had little strength in her right leg, and was not able to bear weigh on it. Since Pilates allows you to gain strength in a non weight bearing position, Jennie got stronger without creating more pain. We alternated strengthening with Pilates and releasing techniques to achieve results. Jennie was determined and quickly gained strength and mobility as we progressed from the basics to intermediate work. Today, Jennie is 80% pain free, doing things she could not do before! Her form is beautiful and I am so proud of her accomplishments! Notice in the pictures, she is standing on her right leg!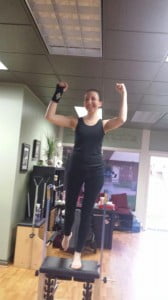 In Jennie's own words: "I found my way to Pilates because I was so desperate to find something to help me deal with chronic pain and injuries that just refused to heal. At only 29 years old, I was so frustrated with the constant pain and felt so let down by my body, I just didn't know where to turn. Each injury impacted my entire body and the resulting chronic pain has had a major impact on my life. Thankfully, Pilates has turned out to be exactly what I needed and Marie is exactly the instructor I needed. Working with her one on one, we have been able to address the specific needs of my body. The thing I love most about Pilates is that it addresses the body as a whole. Every session I feel stronger, more flexible, and more balanced. It's an amazing feeling to be able to do things I couldn't do and it continues to get better! I love coming to my sessions not only for the benefits I see in my body, but the effect it has on my overall well-being and peace of mind. Pilates is helping me to get my life back."
Do you have fitness or wellness goals that you would like to accomplish? Pilates of Old Town is committed to helping you reach those goals. Now is the perfect time to start. For more information call 714-731-7900 to set up your free no pressure evaluation today!